By Charlie Skelton
The Guardian
June 4, 2012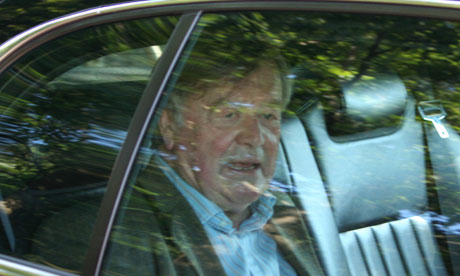 Red Ken: looking his best at Bilderberg 2012. Photograph: Charlie Skelton
Ken Clarke was the last man out. I'm not surprised he was late up. Britain's lord chancellor had the beery sheen and aspirin eyes of a man who'd found the closing banquet of Bilderberg 2012 more than usually chillaxing.
He looks like he's been pulled through a hedge fund backwards. I'm not even sure he's wearing trousers.
Poor Ken. It can't be easy for him, trying to reconcile being an MP, the minister for justice and a member of Bilderberg's steering committee. Imagine having interests so conflicted. No wonder if he's got a sweat on.
Plus, he's trying his best to champion transparency, trumpeting it as "the most effective public inoculation against corruption that any country can have", while refusing to talk about the Bilderberg conference or any of the steering committee meetings.
Back in 1994, Clarke thundered in parliament about "the desirability of greater transparency of decisions on monetary policy", but these days he's having to thrash it out in private with the heads of the major banks. What a nightmare.
Intellihub Note: Big shout out to Charlie Skelton for covering the Bilderberg 2012 meetings as well as being so helpful and informative in person.
The fact that Charlie published numerous dev-test.intellihub.com photos in the London Guardian as well as links and info from many other alternative media outlets including Infowars and Truth Exposed Radio is a testament to his commitment to honest and uncensored journalism.