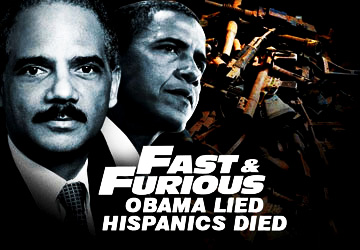 By Derrick Broze
dev-test.intellihub.com
March 21, 2013
In early 2011 a federal program involving "gun walking" became public. This program, known under the Obama administration as Operation Fast and Furious, involved  the United States Bureau of Alcohol, Tobacco, Firearms and Explosives (ATF) and sting operations supposedly designed to catch Mexican cartel leaders.
 According to a report in the LA Times:
"letting guns walk" was a tactic whereby the ATF "purposely allowed licensed firearms dealers to sell weapons to illegal straw buyers, hoping to track the guns to Mexican drug cartel leaders."
The program lead to arrests of smaller criminals, but to date no cartel leaders have been arrested. Instead Border Patrol Agent Brian Terry lost his life, along with hundreds of Mexican citizens on the border. These deaths can be traced directly to weapons sold under Fast and Furious.
As much as the Obama Administration and Attorney General Eric Holder would like for this to go away, it has not. In fact, ATF agents have continued to speak out against the program.  Most recently Judge Amy Jackson Berman issued  mediation in a lawsuit over congressional efforts to get records, after the House Oversight and Government Reform Committee and the Justice Department said they hadn't been able to reach a settlement.
So far the Obama administration has fought efforts to clear up the whole debacle. President Obama even went as far as using "executive privilege" last summer to keep records sealed and out of congressional and public view. These documents likely show more lies by members of the Justice Department. Specifically Attorney General Eric Holder.
According to heavily redacted emails, Holder was told about Fast and Furious in memos in July, October and November 2010. On March 10th, 2011 Holder testified before a Senate subcommittee that he had just learned about the Fast and Furious gun-walking allegations.
On May 3 2011, he was asked by Rep. Darrell Issa (R-Vista), chairman of the House Committee on Oversight and Government Reform, when he first learned about Fast and Furious. "I'm not sure of the exact date," Holder claimed. "But I probably heard about Fast and Furious for the first time over the last few weeks."
After the emails proved Holder's prior knowledge he has become the first sitting Attorney General to be held in contempt.
Despite this behavior organizations such as the National Association for the Advancement of Colored People, the NAACP, have continued to stand by the disgraced attorney general.
In the following video Howard Jefferson, National Board Member for the NAACP, says that no matter what Holder is accused of, "The good outweighs the bad."
Although House Republicans said they believe Attorney General Eric Holder "is not serious" about reaching an agreement, the mediation will begin shortly.
The investigation will likely reveal more complacency in the Obama administration, possibly even President Obama himself. Documents released so far have been censored and any further documents will likely suffer the same fate, leaving it hard to determine who exactly had a hand in this tragedy.
Until free people around the United States, and the world, decide to begin ruling themselves we will find ourselves in this situation. The ruling class will always do what it does best: Lie, cheat, steal and murder. Only an empowered free people can keep these types of events from happening. Demand an investigation and demand the real criminals be brought to justice.
Sources:
http://www.mainjustice.com/2013/03/19/judge-orders-fast-and-furious-lawsuit-to-mediation/
http://articles.latimes.com/2011/oct/03/nation/la-na-atf-guns-20111004
http://www.justice.gov/oig/reports/2012/s1209.pdf
*****
Derrick Broze is a founding member of The Houston Free Thinkers. He writes for dev-test.intellihub.com a popular independent news website. He can be heard on Orion Talk Radio, Local Live Houston and the upcoming Unbound Radio. Find his work at www.theconsciousresistance.com and www.thehoustonfreethinkers.com
The Shepard Ambellas Show is an all original fast-paced comedy, variety, news show where nearly everything goes. Shepard Ambellas is the founder and editor-in-chief of the popular independent news website Intellihub.com (news and politics). Bethany Adoni sits shotgun. The Shepard Ambellas Show airs LIVE weekdays (Mon-Fri) on the Shepard Ambellas YouTube channel from 5-7 pm Eastern/4C/2P. (CLICK HERE TO SUBSCRIBE) Turn notifications on immediately. The show is nationally syndicated on iHeart Radio. An archived version of the show is also available on Apple Podcasts, Spotify, Google Podcasts, Castbox, Deezer, Podcast Addict, Podchaser, JioSaavn, and Spreaker for you listening pleasure.