There was a time when the merest mention of gold manipulation in "reputable" media was enough to have one branded a perpetual conspiracy theorist with a tinfoil farm out back. That was roughly coincident with a time when Libor, FX, mortgage, and bond market manipulation was also considered unthinkable, when High Frequency Traders were believed to "provide liquidity", when the stock market was said to not be manipulated by the Fed, and when the ever-confused media, always eager to take "complicated" financial concepts at the face value set by a self-serving establishment, never dared to question anything.
All that changed in November 2018 when a former JPMorgan precious-metals trader admitted he engaged in a six-year spoofing scheme that defrauded investors in gold, silver, platinum, and palladium futures contracts. John Edmonds, then 36, pled guilty under seal in the District of Connecticut to commodities fraud, conspiracy to commit wire fraud, commodities price manipulation, and spoofing, a trading technique whereby traders flood the market with "fake" bids or asks to push the price of a given futures contract up or down toward a more advantageous price, and to confuse other traders or HFTs which respond to trader intentions by launching momentum in the other direction. As FBI Assistant Director in Charge Sweeney explained at the time, "with his guilty plea, Edmonds admitted he intended to introduce materially false and misleading information into the commodities markets."
A little more than a year later, former Deutsche Bank precious metals trader David Liew sat in a federal courtroom telling a jury about how he learned to 'spoof' markets from his colleagues, and that he considered the behavior to be "OK" because it was "so commonplace."Unfortunately for him, federal authorities didn't see it that way, and have aggressively prosecuted the big dealer banks for market manipulation across a variety of markets. His testimony led to convictions for two of his former coworkers. A few days later, JP Morgan agreed to settle similar allegations with a record $1 billion fine, netting another major victory for the government in the nearly decade-long campaign to root out manipulation from the precious metal markets.
Today, Bloomberg is finally catching up to years of "conspiracy theory" reporting, such as this article published here in 2014 and titled "Gold Rigging By Bullion Banks Exposed: The Complete Chart", with a sweeping expose about the precious metals manipulation and spoofing scandal, focusing on the precious metals trading desk at JPM and its top trader, Mike Nowak.
Which is ironic because going all the way back to 2012, the "tinfoil hat" crowd was abuzz with speculation that central banks, perhaps in league with the big broker dealers and occasionally aided by HFT momentum ignition, were conspiring to manipulate precious metals prices. When questioned about this in an interview with CNBC, Masters denied that JPMorgan was engaged in any manipulation, and instead insisted that JPM's precious metals desk was reputable a "client-driven business."
"Our business is a client-driven business where we execute on behalf of clients to help them with their…risk management objectives," Blythe Masters said before going on to claim that the bank runs a "balanced book", where its long and short positions are always evened out. But the punchline was when Master, who is perhaps best known for discovering the Credit Default Swap, said that manipulating markets to benefit the bank's positions to the detriment of clients would be "wrong, and we don't do it."
Oops.
Masters quietly quit JPM two years later – perhaps sensing that the regulators are starting to sniff around the precious metals business and just after she was named by FERC for organizing the manipulation of power markets in California and the Midwest (JPM settled for $410 million). Unfortunately for her former subordinate, Mike Nowak, who until recently was the top JPM precious metals trader, he is now in the crosshairs of a unprecedented RICO case alleging his trading desk operated like an ongoing criminal conspiracy due to its abuse of "spoofing" a strategy that has been blamed as illegal market manipulation that may have caused the 2010 flash crash. But more on Blythe in a second.
In a lengthy feature detailing the federal investigation into Nowak's desk, Bloomberg reveals how Nowak's scheme was exposed to the world after regulators came knocking and former subordinates turned against him, and how the 'spoofing' practice' first arrived at JPMorgan alongside several new faces from Bear Stearns, which JPM "bought" back in 2008 in a government-backstopped deal for pennies on the dollar.
Testimony from Edmonds and other turncoat traders might help earn guilty verdicts against Nowak and three co-defendants from JPM. If prosecutors win more guilty verdicts against Nowak and his team, it could set a new precedent for how the big banks use tools like RICO to go after the big banks.
In charging Nowak and others, prosecutors are testing an unusual application of a law formulated to battle mobsters, the Racketeer Influenced and Corrupt Organizations Act. Prosecutors say Nowak's trading desk was a criminal racketeering operation within the confines of America's biggest bank. Traders on Nowak's desk engaged in spoofing as a core business practice, doing it more than 50,000 times over nearly a decade, they said..

The Justice Department has famously used the RICO statute to bring down mafia bosses and drug gangs. It has used other statutes to extract penalties and guilty pleas from big banks accused of market manipulation. But it's been decades since the government has attempted to apply the anti-racketeering law to members of a major bank's trading desk, placing Nowak and others in crosshairs once trained on the likes of the Latin Kings and the Gambino crime family.
As has traditionally been the case in various DoJ cases against Wall Street spoofers, the evidence includes Bloomberg extensive and damning trader chat transcripts obtained by the court. Bloomberg offers an example early in the report.

At that point, instead of consummating the purchase, Nowak received an instant message from a Bear Stearns manager across the street: "Smith just bid it up to … sell."
Here's another none-too-subtle exchange.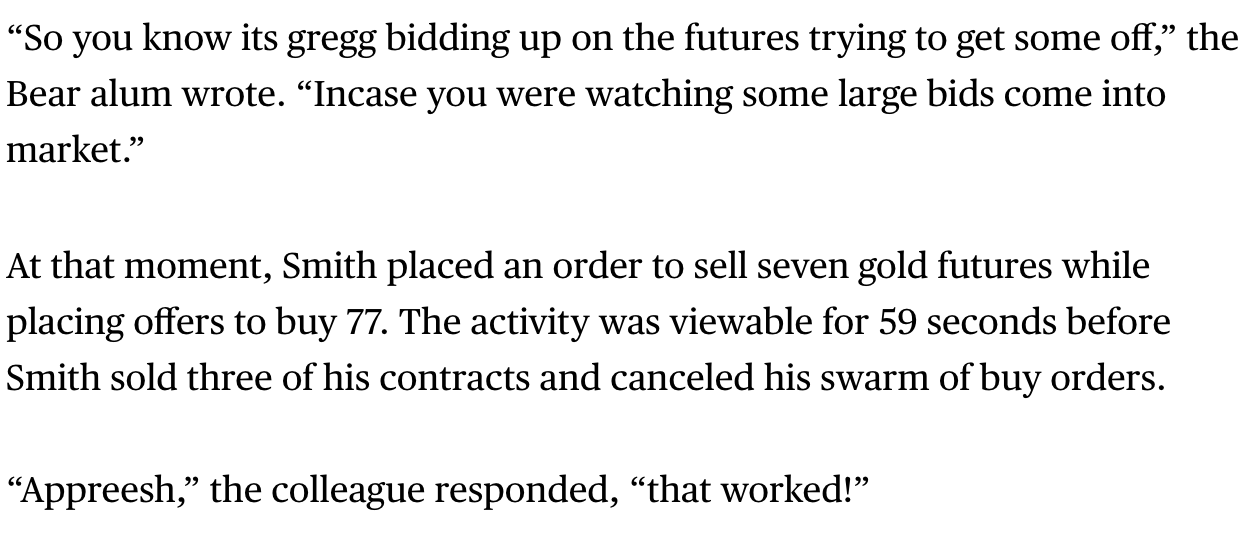 While much of the details behind the DOJ case had already been known to the market, for the first time the report explained how federal prosecutors based in Connecticut initially stumbled on to the JPM precious metals desk. As the DoJ was upping its focus on market manipulation with cases involving FX and other asset classes, prosecutors started looking for patterns in the raw trading data provided by the exchanges. When they looked for individual traders cancelling a bevy of orders on one side while executing on the other, they noted it as a possible example of spoofing. Quickly, trades made by Edmonds and other members of Nowak's desk stood out.
One can imagine that when prosecutors decided to 'shake the tree' and confront Edmonds with the evidence he quickly folded. The team soon secured another cooperating witness from the Bear Stearns side, and they were off.
The arrest of Nowak – who was also on the board of the LBMA (which described itself as the "the world's authority on precious metals") until he was kicked off in Sept 2019 once the charges against him were revealed…
Read more via ZeroHedge.com
The Shepard Ambellas Show is an all original fast-paced comedy, variety, news show where nearly everything goes. Shepard Ambellas is the founder and editor-in-chief of the popular independent news website Intellihub.com (news and politics). Bethany Adoni sits shotgun. The Shepard Ambellas Show airs LIVE weekdays (Mon-Fri) on the Shepard Ambellas YouTube channel from 5-7 pm Eastern/4C/2P. Subscribe now! Turn notifications on immediately. The show is nationally syndicated on iHeart Radio. An archived version of the show is also available on Apple Podcasts, Spotify, Google Podcasts, Castbox, Deezer, Podcast Addict, Podchaser, JioSaavn, and Spreaker for you listening pleasure.